The AM100 Dinner; the networking event of the year
The AM100 publication is the annual industry guide to the 100 largest dealer groups in the country, according to their company turnover.

In addition, the AM100 provides a detailed analysis of the state of the industry and looks at the key issues facing dealers and their customers.
The AM100 is an invaluable opportunity to meet friends and colleagues in the retail industry and be amongst the first to see the official unveiling of the new AM100 listing of UK automotive retail groups ahead of publication in AM.
Established for more than two decades, the AM100 has grown in stature and recognition. Known for its quality and integrity the AM100 Dinner will take place at our new venue, the Hilton Birmingham Metropole.
The AM100 Dinner will once again be a black tie event with exceptional networking opportunities.
Book your attendance NOW!
To book your table or tickets and network with over 350 industry professionals, visit the booking pages or contact Emma Bunce on 01733 395133 or emma.bunce@bauermedia.co.uk
2019 After dinner speaker confirmed as Jo Johnson MP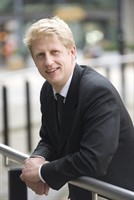 A prominent voice in public debates around the EU, education, infrastructure and business, Jo resigned from his role as Minister of Transport citing disagreement over the government's Brexit strategy. Having returned to the backbenches, Jo continues to comment on Brexit and the UK's future relationship with the EU. He also comments more widely on the domestic political scene as well as the relationship between business and policy-making, and issues related to UK infrastructure and transport.
Photo credit: Jeremy Selwyn